by
Spooky season is upon us! Fall provides the perfect setting to curl up in a big blanket with some freshly popped popcorn for a night-in watching movies with the family. Here's a list of Halloween must-watch films everyone can enjoy together. This list is scaredy-cat approved!
Hotel Transylvania (2012)
Dracula builds a resort, hidden from humans, to raise his daughter, Mavis. Monsters come to the resort to vacation and take a break from scaring humans. When a human accidentally stumbles on to the resort, Dracula disguises him as a monster in order to hide him from the other guests. Mavis falls for the boy, despite her father's warning about humans.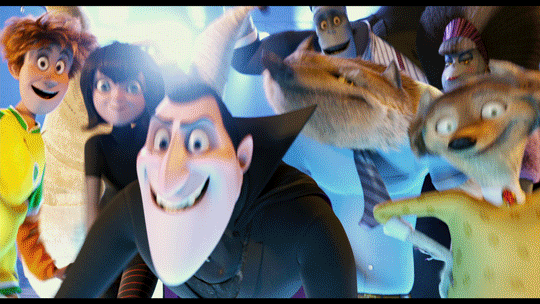 Credit: GIPHY
Coraline (2009)
After moving to an old house, Coraline is feeling neglected by her parents. While exploring her new home, she finds a hidden door that is a portal to a parallel world where everyone has button eyes and everything is seeming perfect. With the temptation of staying in this alternate reality, Coraline soon finds that it is all a trick.
The Addams Family (1991)
Charles Addam's cartoons are brought to life on the big screen. When a man claiming to be their long lost Uncle Fester shows up at their door, the family is overwhelmed with joy. But they soon become suspicious of him. The imposter almost gets away with his plan of stealing their family fortune, but the false Fester doesn't stand a chance against the united Addams family front.
Credit: GIPHY
Goosebumps (2015)
Based on R.L. Stine's scary-book series that parents will remember from their childhood, but in a whole new story. Stine's daughter befriends the new guy in the neighborhood, who accidentally unleashes the monsters from the books into the real world. They team up to get all of the creatures back into the books.
Credit: GIPHY
Hocus Pocus (1993)
A timeless classic that will continue to spook many generations to come! The Sanderson sisters were executed 300 years ago in Salem, Massachusetts for practicing witchcraft. The new kid in town, Max, accidentally breaks the spell holding them in their grave. The sisters now have one night to steal the soul of a child to secure their immortality. Max and his friends have to fight off the witches all of Halloween night until the sun rises, saving their souls and ending the witches for good. 
Credit: GIPHY
Now turn down the lights, light your favorite fall-scented candle and grab your snacks. Throw on one of these Halloween classics for the ultimate fright night!
Categories: Uncategorized